Starlight Star Bright Wishin For A Cure Tonight Nail Polish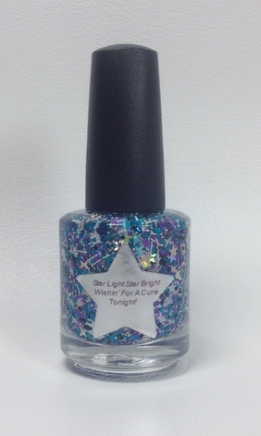 50% OF EVERY BOTTLE WILL BE DONATED TO JDRF (JUVENILE DIABETES RESEARCH FOUNDATION)!!!!

A cure could literally be at your fingertips!

"Star Light Star Bright Wishin' For A Cure Tonight!" is made up of different size/shape glitters in turquoise, purple, white, black, iridescent, and of course silver holo "wishing" stars all in a clear base. (2nd photo shows over black, 3rd shows over Cottontail, Royal Pain, and Banana Puddin', last photo is 2 coats alone)

VERY excited for this polish!  My 20 yr old son, Tyler, has been a diabetic since he was diagnosed at 21 months old, and my 19 year old daughter, Alyssa, was diagnosed in May 2016. So this is VERY important and close to my heart! Each full size bottle is $10 with 50% going to JDRF in Tyler and Alyssa's honor. What makes this polish extra special is that Tyler had a hand in making it with me when he was about 11 and also coming up with the name, "Star Light Star Bright Wishin' For A Cure Tonight!" This is the wish of every child suffering with this devastating disease. It is my dream for my son and daughter to see a cure in their lifetime, and you can help make that happen!

Every donation helps get us one step closer to a cure, one step closer to children being able to live a LONG and healthy life; A life free from finger sticks, shots, hospital stays, and the MANY complications that comes along with having diabetes. Complications such as blindness, kidney failure, seizures, coma, amputations, and death, just to name a few. Diabetes is a very devastating disease that more and more children are diagnosed with every year. Together we can help these children, we can make their wish come true!

This listing is for one "full" size (15ml).

For best results, please give your bottle a good shake or roll before using as some settling may occur overtime or during shipping. Each bottle has at least 2 stainless steel balls to help with the mixing. They are also 3 Free (they contain no Toluene, Formaldehyde or DBP) and cruelty free.

*****Please note*****Due to variations in monitors and other devices used to view the photos you may notice a slight color difference from the photo compared to the bottle of polish itself.